ITHACA's Guideline workgroup is currently in the process of identifying and subsequently targeting a number of areas where the development and implementation of standardized consensus statements would most benefit the community of patients and families affected by developmental disorders and intellectual diability.
In addition to developing these consensus statements, we are also looking at those already in existence in all Member States, how we can endorse their content and translate them, and how we can ensure they reach the widest possible audience. With this in mind, we would like to highlight below some guides which we think you may find useful and that our network will be considering for endorsement in the future.

Guidelines & consensus statements produced by ITHACA members and endorsed by ERN-ITHACA
Background
A pattern of major and minor congenital anomalies, facial dysmorphic features, and neurodevelopmental difficulties, including cognitive and social impairments has been reported in some children exposed to sodium valproate (VPA) during pregnancy. Recognition of the increased risks of in utero exposure to VPA for congenital malformations, and for the neurodevelopmental effects in particular, has taken many years but these are now acknowledged following the publication of the outcomes of several prospective studies and registries. As with other teratogens, exposure to VPA can have variable effects, ranging from a characteristic pattern of major malformations and significant intellectual disability to the other end of the continuum, characterised by facial dysmorphism which is often difficult to discern and a more moderate effect on neurodevelopment and general health. It has become clear that some individuals with FVSD have complex needs requiring multidisciplinary care but information regarding management is currently lacking in the medical literature.
Methods
An expert group was convened by ERN-ITHACA, the European Reference Network for Congenital Malformations and Intellectual Disability comprised of professionals involved in the care of individuals with FVSD and with patient representation. Review of published and unpublished literature concerning management of FVSD was undertaken and the level of evidence from these sources graded. Management recommendations were made based on strength of evidence and consensus expert opinion, in the setting of an expert consensus meeting. These were then refined using an iterative process and wider consultation.
Results
Whilst there was strong evidence regarding the increase in risk for major congenital malformations and neurodevelopmental difficulties there was a lack of high level evidence in other areas and in particular in terms of optimal clinical management.. The expert consensus approach facilitated the formulation of management recommendations, based on literature evidence and best practice. The outcome of the review and group discussions leads us to propose the term Fetal Valproate Spectrum Disorder (FVSD) as we feel this better encompasses the broad range of effects seen following VPA exposure in utero.
Conclusion
The expert consensus approach can be used to define the best available clinical guidance for the diagnosis and management of rare disorders such as FVSD. FVSD can have medical, developmental and neuropsychological impacts with life-long consequences and affected individuals benefit from the input of a number of different health professionals
Reference
Clayton-Smith J, Bromley R, Dean J, Journel H, Odent S, Wood A, Williams J, Cuthbert V, Hackett L, Aslam N, Malm H, James G, Westbom L, Day R, Ladusans E, Jackson A, Bruce I, Walker R, Sidhu S, Dyer C, Ashworth J, Hindley D, Diaz GA, Rawson M, Turnpenny P. Diagnosis and management of individuals with Fetal Valproate Spectrum Disorder; a consensus statement from the European Reference Network for Congenital Malformations and Intellectual Disability. Orphanet J Rare Dis. 2019 Jul 19;14(1):180. PMID:31324220
Beckwith-Wiedemann syndrome
Background
Beckwith–Wiedemann syndrome (BWS), a human genomic imprinting disorder, is characterized by phenotypic variability that might include overgrowth, macroglossia, abdominal wall defects, neonatal hypoglycaemia, lateralized overgrowth and predisposition to embryonal tumours. Delineation of the molecular defects within the imprinted 11p15.5 region can predict familial recurrence risks and the risk (and type) of embryonal tumour. Despite recent advances in knowledge, there is marked heterogeneity in clinical diagnostic criteria and care. As detailed in this Consensus Statement, an international consensus group agreed upon 72 recommendations for the clinical and molecular diagnosis and management of BWS, including comprehensive protocols for the molecular investigation, care and treatment of patients from the prenatal period to adulthood. The consensus recommendations apply to patients with Beckwith–Wiedemann spectrum (BWSp), covering classical BWS without a molecular diagnosis and BWS-related phenotypes with an 11p15.5 molecular anomaly. Although the consensus group recommends a tumour surveillance programme targeted by molecular subgroups, surveillance might differ according to the local health-care system (for example, in the United States), and the results of targeted and universal surveillance should be evaluated prospectively. International collaboration, including a prospective audit of the results of implementing these consensus recommendations, is required to expand the evidence base for the design of optimum care pathways.
Methods
A PubMed search using the keywords "Beckwith Wiedemann", "Wiedemann Beckwith" or "EMG syndrome" yielded articles of interest that were selected on the basis of the abstracts, with particular consideration given to the number of patients included and the description of the molecular mechanisms. Only articles mentioning the molecular mechanisms were retained. Articles were then reviewed by at least two experts and sorted into three groups: clinical diagnosis (group 1); molecular diagnosis (group 2); and clinical management (group 3).
The international BWS consensus group comprised 41 participants from 36 institutions across 11 countries, predominantly based in Europe, including clinicians, clinical and research scientists and patient group representatives with expertise in different aspects of BWS (clinical and molecular geneticists, paediatric endocrinologists, oncologists, orthopaedists, oro-facial surgeons and nephrologists). A modified Delphi consensus process was adopted4. Discussions occurred via conference calls, email communications and file exchanges. Two face-to-face meetings were held: a preliminary meeting of 11 participants (including one patient group representative) in February 2016 to identify the key issues to be addressed by the consensus group and a plenary 3-day meeting involving 35 participants (including 2 patient group representatives) in March 2017. During this plenary meeting, experts participated in one of the three subgroups (clinical, molecular or management) on the basis of their field of expertise, discussed the draft consensus documents and formulated and voted on the consensus recommendations (Box 1). This Consensus Statement summarizes the outcome of these discussions and is divided into three subject areas: clinical aspects; molecular aspects; and care and management.
Conclusion
The recommendations of the first international BWS consensus group described in this Consensus Statement provide a framework for improving the diagnosis and management of BWSp. As BWSp is characterized by complex genetics and variable multisystem phenotypes, it is important that a lead clinician is identified for each patient (Table 4, R22) to ensure coordination of the numerous aspects of care throughout childhood (Supplementary information S5 (table)). The proposed diagnostic and care pathways are intended to be practical and cost-effective (for example, targeting tumour surveillance to high-risk groups should reduce costs compared with universal surveillance strategies). Nevertheless, in some health-care systems and medicolegal environments, further evidence might be required to shift clinical practice (for example, tumour surveillance in North America). Thus, it is important that implementation of these consensus recommendations be accompanied by prospective audits in order to expand the evidence base for future consensus initiatives.
Reference
Brioude, F., Kalish, J., Mussa, A. et al. Clinical and molecular diagnosis, screening and management of Beckwith–Wiedemann syndrome: an international consensus statement. Nat Rev Endocrinol 14, 229–249 (2018). https://doi.org/10.1038/nrendo.2017.166
Cornelia de Lange syndrome
Background
Cornelia de Lange syndrome (CdLS) is an archetypical genetic syndrome that is characterized by intellectual disability, well-defined facial features, upper limb anomalies and atypical growth, among numerous other signs and symptoms. It is caused by variants in any one of seven genes, all of which have a structural or regulatory function in the cohesin complex. Although recent advances in next-generation sequencing have improved molecular diagnostics, marked heterogeneity exists in clinical and molecular diagnostic approaches and care practices worldwide. Here, we outline a series of recommendations that document the consensus of a group of international experts on clinical diagnostic criteria, both for classic CdLS and non-classic CdLS phenotypes, molecular investigations, long-term management and care planning.
Methods
The International CdLS Consensus Group comprised 43 participants from 30 institutions in 9 countries. The group consisted of clinicians, scientists and two patient-group representatives. The clinicians practice in North America, South America and Europe. A modified Delphi consensus process was adopted (Table 1). Discussions occurred via video conference calls, e-mail communications and file exchanges. All known support groups were contacted by e-mail to identify key issues that should be addressed during the consensus process. Subsequently, the issues to be addressed were determined by the Consensus Group in a video conference call. A plenary face-to-face 2-day meeting of 17 participants (including the patient-group representatives) was held in November 2017. Consensus recommendations were voted on by 37 participants (for recommendations R1–R68, see Supplementary Box 1).
Conclusion
The present recommendations provide a framework for improving diagnosis and management of CdLS. CdLS is a complex disorder, in which many body systems are affected, and it is important that a lead clinician is identified for each patient to ensure coordination of the numerous aspects of care in both childhood and adulthood. The proposed clinical and molecular diagnostic pathways are intended to be universally practical, both in countries with access to modern techniques and in those where this is not yet possible, and they are meant to be cost-effective, avoiding unnecessary diagnostic or management procedures. Still, in some health-care systems and medicolegal environments, the guidelines may need to be adapted. It is important that implementation of the consensus recommendations is accompanied by prospective audits in order to expand the evidence base and allow for future ameliorations of the consensus.
Reference
Kline, A.D., Moss, J.F., Selicorni, A. et al. Diagnosis and management of Cornelia de Lange syndrome: first international consensus statement. Nat Rev Genet 19, 649–666 (2018). https://doi.org/10.1038/s41576-018-0031-0
Guidelines & Consensus Statements available in Member States and endorsed by ERN-ITHACA
(Coming soon)
Websites with Guidelines & Consensus Statements available on the Web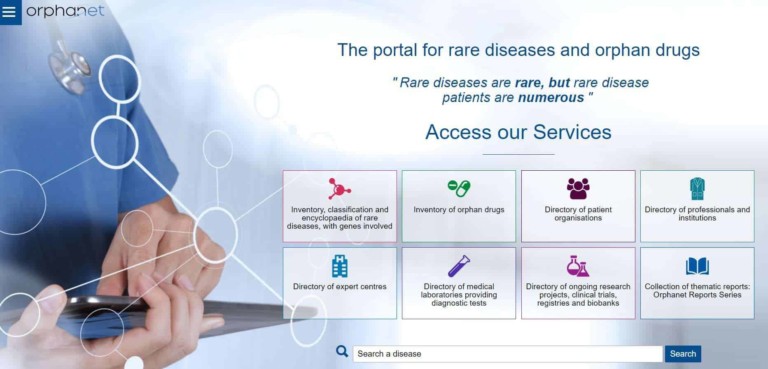 Orphanet
Orphanet is a European website that provides an inventory and classification of rare diseases (RDs), with each entry having its own ORPHA code, an encyclopaedia of expert-authored and peer-reviewed review articles, various clinical guidelines, diagnostic criteria, guidance for genetic testing, disability factsheets etc., and a directory of services (clinics, laboratories, research projects, registries, clinical trials, patient organisations).
ITHACA is a partner of ORPHANET to support RD encyclopaedia and to enrich its entries regarding disorders covered by ITHACA : 72 summaries have been reviewed and updated so far.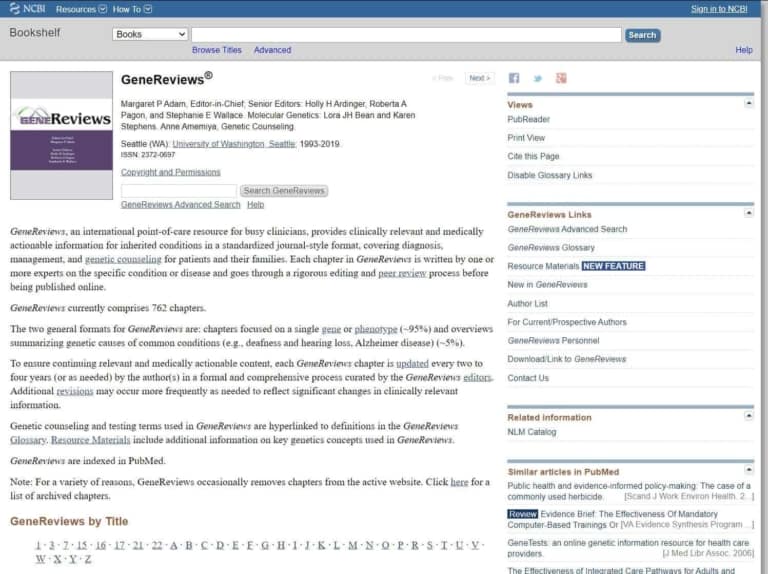 Genereviews
GeneReviews is an international point-of-care resource consisting in an online database containing standardized peer-reviewed articles that describe specific heritable diseases. It was established in 1997 as GeneClinics by Roberta A Pagon (University of Washington) with funding from the National Institutes of Health. Its focus is primarily on single-gene disorders, providing current disorder-specific information on diagnosis, management, and genetic counseling. Links to disease-specific and/or general consumer resources are included in each article when available. The database is published on the National Center for Biotechnology Information (NCBI) Bookshelf site. Each chapter is written by one or more experts on the specific condition or disease and goes through a rigorous editing and peer review process before being published online. Articles are updated every two or three years or as needed, and revised whenever significant changes in clinically relevant information occur. Articles are searchable by author, title, gene, and name of disease or protein, and are available free of charge.
Genereviews provides clinically relevant and medically actionable information for inherited conditions in a standardized journal-style format, covering diagnosis, management, and genetic counselling for patients and their families. GeneReviews currently comprises almost 800 chapters, that follow two general formats
chapters focused on a single gene or phenotype
overviews summarizing genetic causes of common conditions
ERN Guidelines Methodological Handbook
The ERN GUIDELINES Methodological Handbook of the programme of ERN Clinical Practice Guidelines (CPG) and other Clinical Decision Support Tools (CDST) is now available.
This handbook is the outcome of the extensive literature review and consultation process carried out by the Consortium in charge of the implementation of the Programme. The presented methodology is based on the current international "gold standards" that have been developed along the years and used by key international and national bodies and organisations specialised in the development of Clinical Practice Guidelines and other Clinical Decision Support Tools.
This material is an important step forward of the ERN CPG programme and a key element and tool for the work of the ERNs in the production, adaptation, adoption and appraisal of the different guidelines and technical sub-products to be used for now on by all the ERNs. The methodology will ensure the quality and standardisation of the CPG and CDST produced and used by the ERNs, the backbone of the process of the diagnosis and treatment of patients suffering of rare or low prevalence and complex diseases.
The handbook includes 12 separated guidelines addressing the following conceptual and methodological aspects of the programme: