What is APOGeE?
To fulfil the objectives of e-Training and e-Learning developments in ERNs, the ERN ITHACA is launching an online and interactive textbook of medical genetics, built with the open-access platform Moodle will the collaboration of multiple authors from ITHACA's network and other ERNs.
APOGeE includes sections on biological genetics, formal genetics, medical genetics, both clinically oriented and pathophysiologically oriented approach to genetic diseases, precision medicine, and treatment of genetic diseases.
In addition, APOGeE will connect with other online knowledge sources. Thus, APOGeE is ITHACA's main contribution to the EU strategic objectives of ERN-specific knowledge generation, to contribute to a structured programme of post-graduate education and training in the field of human genetics and Rare Disorders.
This project aims to establish a free and open access interactive, asynchronous training source in medical genetics: e-learners will access an interface offering them different blocks of e-learning, self-assessment tools, and monitoring of learning achievement.
An international and renowned editorial team coordinates the original content. In addition, it will be enriched with documents and courses already available in our network.
To join the project as author, please have a look at this provisional table of contents and fill in this online form to indicate the chapter(s) you would like to work on.
Preview of the Textbook writing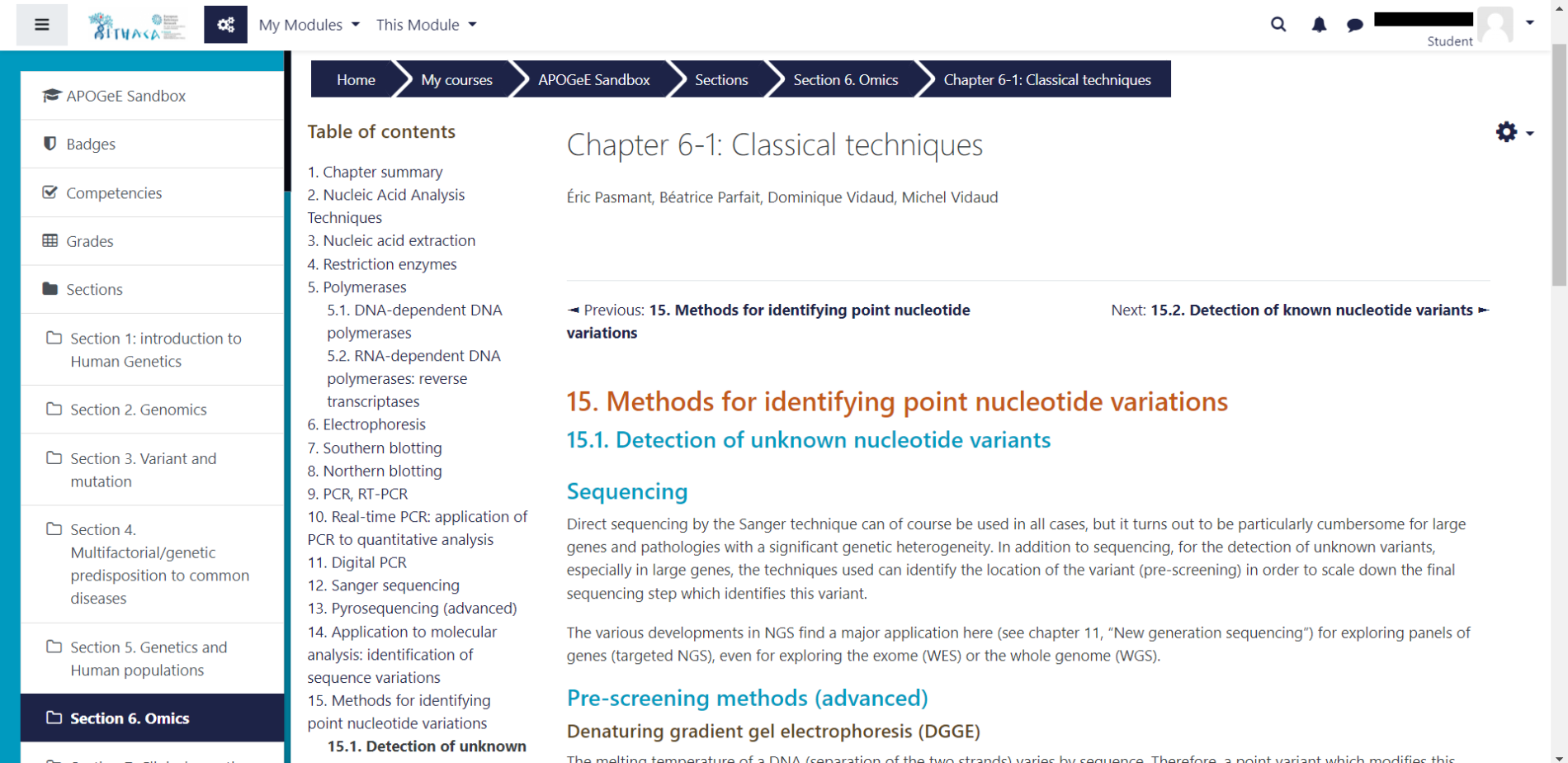 APOGeE Targets
EU trainees in medical genetics and those in other specialities who are interested in certain chapters of genetics.
Candidates for the European examination in medical genetics and genomics of the European Union of Medical Specialists (UEMS).
MD in training in genetics in less wealthy countries who would have access to a free university teaching tool.
Editorial Board
Pr Jonathan Berg (Dundee, UK)
Pr Jill Clayton-Smith (Manchester, UK)
Pr Maurizio Genuardi (Roma, Italy)
Pr Martin Krahn (Marseille, France)
Pr Ute Moog (Heidelberg, Germany)
Pr Edward Tobias (Glasgow, UK)
Pr Peter Turnpenny (Exeter, UK)
Pr Johannes Zschocke (Innsbruck, Austria)
Coordination: Pr Alain Verloes (Paris, France)
ITHACA dedicated Project Manager: Nicholas Szeto