ERN ITHACA is developing a meta-registry called ILIAD, connecting all our full members, external databases, and biobanks in various EU countries for patients with dysmorphic/MCA syndromes and/or intellectual disability.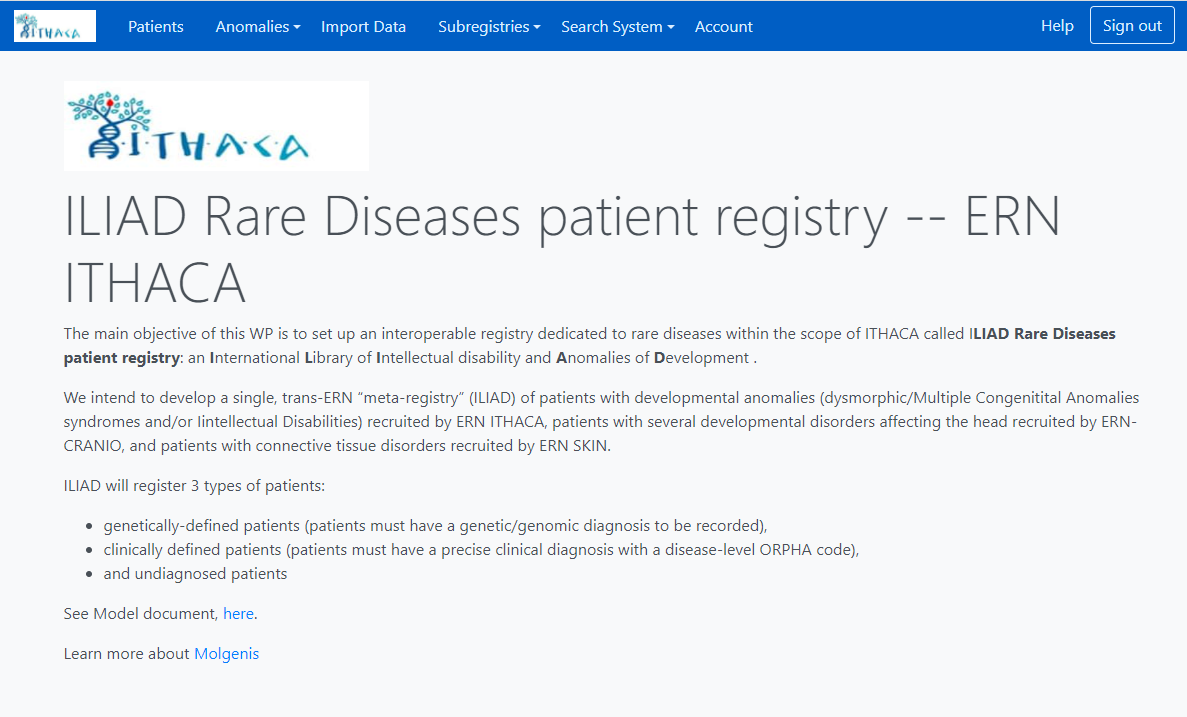 Through the ERN-ITHACA's expert and patient participation network, ILIAD is able to provide an infrastructure for diagnosis, highly specialised multidisciplinary healthcare, evidence-based management, and collection of secure patient data. 
The registry is built on MOLGENIS open-source software, providing flexible rich data structures, user friendly data import and querying, and FAIR interfaces for programmatic data exchange. To support the interoperability, the registry is connected to the European Rare Disease Registry Infrastructure ERDRI), uses the minimal dataset of variables from JRC and will implement the use of common pseudonymisation tools developed by the JRC to allow the linking of rare disease patient cohorts.
ILIAD consists of 2 components: a central, web-based registry and a network of linked satellite/client registries forming the ERN-ITHACA registry federation. Data is modelled adhering to international interoperability standards from JRC and EJP-RD.
In addition to the core registry, ILIAD will include thematic sub-registries of patients with biologically proven monogenic or genomic (chromosomal) diagnoses, under the supervision of ERN-based curation teams.
ILIAD has adopted a data access policy, for requesting access to the data, Governance of the Registry, compliance with applicable legal and regulatory requirements on the use of Personal Data.
We are well underway to share ERN-ITHACA patient data, yielding high-quality epidemiological insights and expert consensus statements, informing policy decisions that impact RD patients in general and care for ERN-ITHACA patients in particular (this action is co-funded by the EU 3rd Health Programme: Grant number 947617).